We make it simple for your business to accept digital payments while providing access to credit and other business tools.
Key tools to drive your business forward
We understand that you want to have more customers coming through the door. That is why, our tools seamlessly weave into how your business operates, making it easier than ever to run, grow and prosper your business
Easy and safe way to accept payments
With a Lipa Na Mpesa till number, you can go cashless and make it easy and convenient for your customers to securely pay you.
Manage your business anywhere, anytime
Our dedicated Online Portal offers real-time visibility to your transactions, customer payments, reports and more business tools at your convenience.
Quick financing to grow your business
Access credit when you need it. Whether it's a working capital injection or funds to expand your business, you can count on our Business Cash Advance to come through for you.
Conveniently pay your suppliers or employees
Take advantage of our bulk pay solution and experience the easier way to make multiple payments directly from your Kopo Kopo account.
Get the benefits of taking your business 'cashless'
Secure
Strict data policies ensure your information is encrypted and protected at all times.
Transparent
Have full view and control of your transactions from multiple platforms.
We are transforming the way businesses operate
"Kopo Kopo has helped me with Grow which is a cash advance that has really helped us in times when we really needed some fast cash quickly to procure some products"
–Leenie Karuri, Cakeworld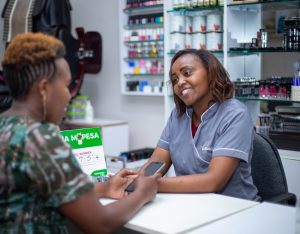 My customers kept asking if they could pay using Lipa Na Mpesa and I thought it was a difficult process to get one. That is until I knew about Kopo Kopo. I applied right away and within the same week, the till was ready! After three months of transacting, I was told that I qualify for a Business Cash Advance. I remember asking myself, is this real? I quickly referred four of my friends to get a till from Kopo Kopo as well.
David Mcolaka, Hawi & Hera
Lipa Na M-Pesa has given me a safer way to accept payments and earned my business trust from customers. Getting a Lipa Na M-PESA till through Kopo Kopo enables me to enjoy more benefits like Business Cash Advances and bulk payments
Lilian Wairimu, Dazzy Stores
Before receiving a Lipa Na M-Pesa till from Kopo Kopo, I had to carry cash. I was worried about security. Now, I can conveniently and safely collect payments from my customers.
Divine's collection