Learn more about Kopo Kopo PAY
PAY is your everyday business tool
PAY is the easiest tool to help you make all your outgoing payments faster and securely, whether you need to pay your suppliers, staff, bills, or other business expenses.
Payment channels supported by PAY
Directly transfer funds from your Kopo Kopo account to other M-PESA wallets, till numbers, Paybills, and bank accounts.
Log in to your Web App=> Pay=>Overview=>Download, and sign the intent letter to opt into PAY.
PAY is already active in your account if you previously signed an intent letter. Please confirm by logging in to your Kopo Kopo account=>PAY=>Overview. You can also confirm from the Android app and USSD (*681#) to check if PAY is enabled.
Availability of all the four payment channels
Check that your account has access to all four payment channels (Bank, Buy Goods till, M-PESA and Paybill) . If not, please write us an email on support@kopokopo.com and we will enable them.

Sending money to multiple users at the same time
M-PESA and bank account transfers allow you to send money to multiple users at the same time.
Our Web App enables you to upload a CSV file If you have a long list of recipients. We have attached a downloadable file, to help you go through the process faster. All you have to do is fill out the fields, save it, and then upload it.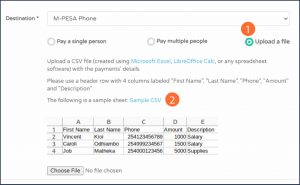 For bulk bank uploads, you will need to enter the Paybill numbers for each bank. Under the bank menu, we have added a list of common bank Paybill numbers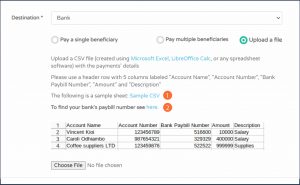 *The Android app allows you to send up to 5 payments at once.
*Pay to Bank is not available on the USSD platform.
How long it takes to transfer money through PAY
Funds will be credited to M-PESA users, till numbers, and Paybill accounts immediately. 
For bank accounts, money will reach the recipient within the same day.
Security options available
We have enhanced security to ensure that there are no financial leakages in your business. 
To access, log in to the Web App =>Pay=>Overview=>Pay security

From the Pay Security option, you can access:
Optional approval maker-checker process

2 step verification:
1. Web App
2. Android App
Download our App from the Android Play Store.
3. USSD
Dial *681# ==>manage account==>Option 3(PAY)==>Choose payment channel of choice.
A flat fee of KSh. 50 is charged for every PAY  transaction.
Contact us for further support
If you have any questions, feel free to call 0702000222,  Whatsapp to +254 114 440 067 or email us at support@kopokopo.com
 P.S. You can easily start a  WhatsApp chat  by clicking this link https://wa.me/254114440067